Patricia Campbell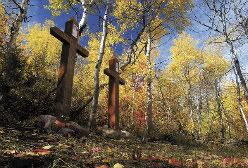 Missing Since:
July 23, 1978 from Pocatello, Idaho
Age When Disappeared:
15 years old
Remains Found:
October 1981
Abductor:
Never found.

Working in the small shop behind his Fort Hall home, Bud chiseled his daughter's nickname, Patsy Campbell, down the 6-foot post of a sweet gum wood cross. The retired construction worker etched IN MEMORY OF into the horizontal board. At the top, he framed a photo of the 15-year-old brown-eyed brunette under Plexiglas. The caption reads: Nov. 27, 1962-July 22, 1978. The latter date marked the last time Bud, 72, saw his daughter.

Close to 30 years after Patricia and her friend Tina Anderson vanished from a Pioneer Day picnic at Pocatello's Alameda Park, Bud and other members of the Campbell family drove to an Oneida County gorge for the closest thing to a funeral service they could muster The gorge is long, desolate and expansive, mostly covered by dry cheat grass, sagebrush and the occasional juniper bush. Located in the high mountain desert of Southeast Idaho about 13 miles outside of Malad, it is barely discernible from the hundreds of other canyons filling the rugged landscape.

That July morning back in 1978, Bud and wife, Jeanette, had dropped the sisters, Patricia, Melissa, 9, and Elizabeth, 4, off near the Bannock County Courthouse for the annual Pioneer Day Parade on Center Street. They were supposed to go to the picnic afterward and call for a ride home before dinner. That evening, after not hearing from Patricia, Bud sent the girls' 18-year-old brother, Dale, to find them. Instead, he found only his two youngest sisters, who said Patricia had left to get some food. Dale called Bud, who helped search the thinning crowd.

The girls told the family and police that Tina, 12, was with them at the parade and at the park before Patricia disappeared. Tina had left to baby-sit, and the last thing Melissa could remember was that Patricia was alone with a young man she didn't recognize. He was wearing a blue hooded sweatshirt and had a large ring on his hand. That night, Jeanette spoke on the phone with Tina's mother, Mariko Anderson, who was also worried. Tina had shown up to baby-sit little Jake Norton as scheduled, but his parents were not yet ready to leave. Tina told them she would return later, but never came back.

Officers told the families there was no reason to suspect foul play because nobody they interviewed at the park that night saw the girls being hustled into a car. Jeanette was skeptical. She felt like someone had just kicked her in the stomach. Patricia had never run away before. None of her clothes were missing from her room and her $300 savings account remained untouched. Mariko also had doubts. Tina's clothes were in her room as well, and her piggy bank was full. But if Patricia had simply left with Tina, Jeanette thought, she would surely come back someday.

Three years later, in October 1981, a group of hunters found a human skull and some bones scattered amongst fallen leaves and underbrush in an aspen grove clearing in the Oneida County gorge. Ironically, the Andersons once lived in Malad and had frequently gone fishing with Tina near the area where she was later killed. Using dental records, authorities identified the skull as Tina's. There was a small bullet hole above the ear. Some of Patricia's clothing was found at the scene, no tests were conducted to confirm her identity. The third skeleton, that of a teenage African-American girl, was never identified.

The remains were misplaced, and for years the Pocatello police and Oneida County Sheriff's Office had disagreed on where they had been stored. Curious, Oneida County Sheriff Jeff Semrad began a search for the remains, eventually finding them in his department's evidence storage area.

Patricia's youngest sister, Elizabeth, started going through the footlockers about six years ago looking for a hair brush. The Campbells had contacted Pocatello police back then after seeing DNA testing on television crime dramas, and they wondered if Patricia could be identified through strands of hair. Bud and Patricia's mother, Jeanette, left her room exactly how it was for more than a year after her abduction, then packed her belongings neatly into footlockers. The family still clung to the slim hope she would return home safely.

Police agreed to DNA test Patricia's remains, and through the testing by the University of North Texas, her remains were finally positively identified.

The Oneida County Sheriff's Office called the state crime lab to help excavate the site. During the dig, authorities uncovered skull fragments and other bones, clothing scraps, hair strands and a handful of .22-caliber casings. Bannock County Sheriff Lorin Nielsen said he remains confident about the investigation. His office is assisting because Tina and Patricia were abducted within his jurisdiction. Nielsen said DNA technology could prove key to solving the case.

"Time is always on our side. There are people who know what happened. There are people who were there," Nielsen said. "As we start putting this puzzle together, we feel comfortable with the picture we're getting."

However, the families have lost faith in the investigation.